KGO Recognizes Mathew Xavier as Director of Innovation & Change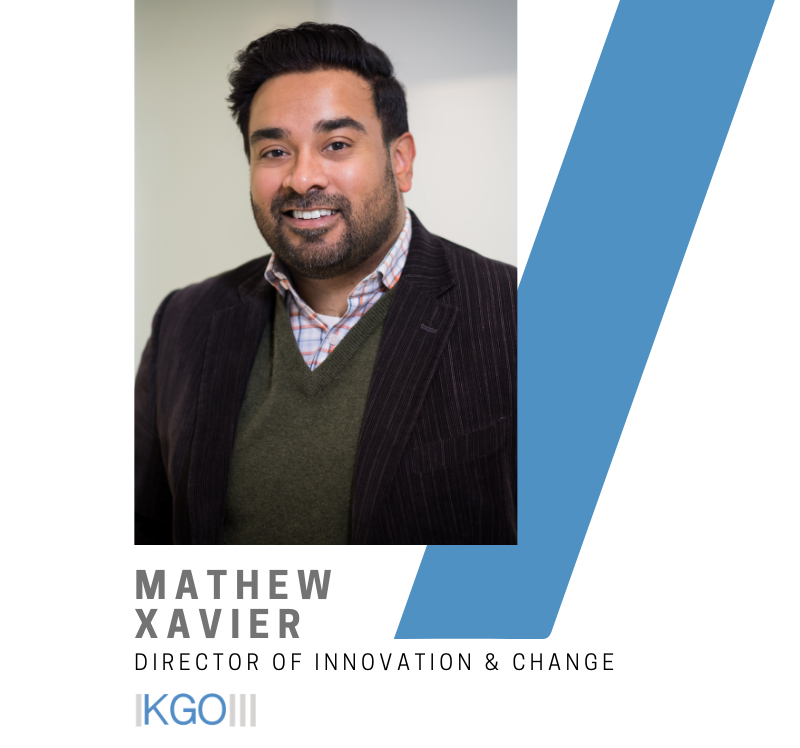 KGO is pleased to announce the promotion of Mathew Xavier to Director of Innovation and Change. As a leader of design excellence and workplace strategy who leverages national and international experience, Matt expands his role within the company to lead KGO's Change Strategy & Employee Engagement Division.
"I am humbled and excited to have this opportunity and be in this role at KGO. I am looking forward to growing business and relationships and to bring forward the knowledge we have collectively as a team to help clients achieve their vision"
Matt's strategic vision and 20+ years of experience supporting commercial and federal organizations through real estate and organizational change, bolsters his enthusiasm to connect the value of change management, technology and innovation to advance how teams deliver client services. We look forward to sharing his devotion of aligning workplace design and employee experience to an organizations' greater mission.
In his free time, Matt is passionate about unwinding with a run outdoors or listening to his favorite podcast "How Did This Get Made". If you haven't had the opportunity to connect with Matt, he is always up for a recipe swap or available to advise on the fastest route to take (flight, bus, train) when traveling from the U.S. to any destination within Europe.
For additional information, you can connect with Matt on LinkedIn or email him directly at mathew@kgopm.com.
CONNECT:
MATHEW@KGOPM.COM
240.687.7656