Where there was once a clear divide between home and the office, there is now fluidity. Dogs accompany their owners to the office, and home is a space for both productivity and relaxation. Comfort and flexibility are now top priorities for both residential and work spaces. In this blog, we're sharing five ways to revitalize an old building to create a timeless style — without losing character.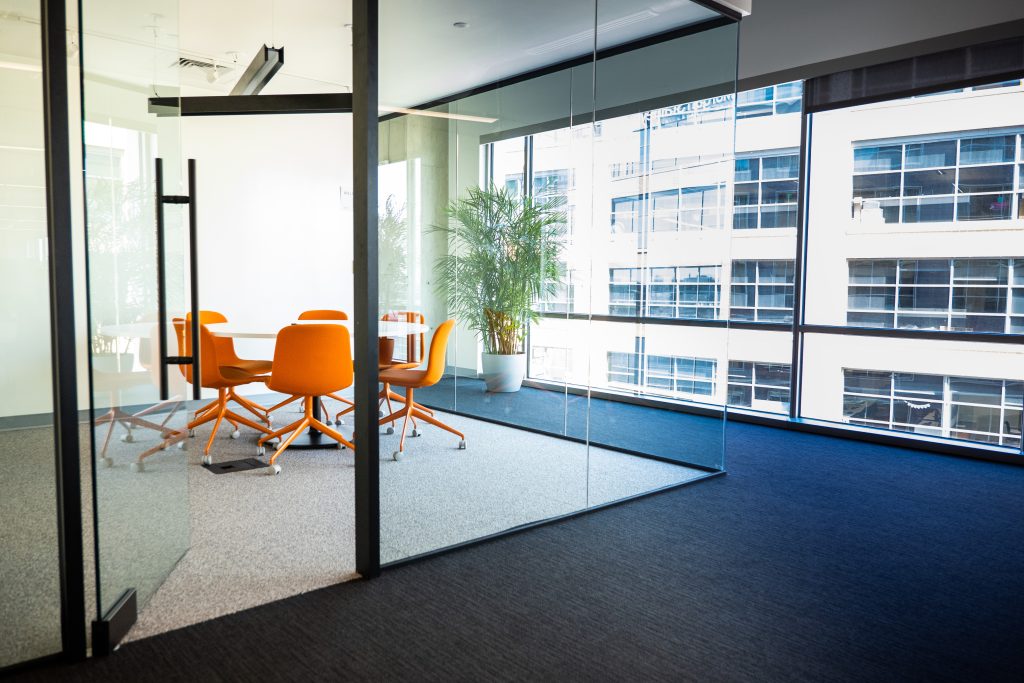 Optimize residential spaces for remote workers.
According to the Pew Research Center, nearly 60% of workers whose jobs can be done remotely are working from home at least part of the time. To accommodate the millions of workers who will remain remote or hybrid permanently, residential spaces must reimagine their common areas with telecommuters in mind. KGO Project Manager, Dane Bralich agrees that co-working spaces are the new amenity for trendy apartment buildings."There is definitely an increased emphasis from clients to create co-working spaces within their residential building. Although commercial spaces like WeWork or cafés have their place in the  'remote work' world, we are seeing a trend that tenants/owners want to have these spaces available in their own buildings.
Here are a few features apartment buildings can include better serve the needs of remote workers: 
Quiet spaces like phone booths for video calls and work requiring focus 
Collaborative spaces like conference rooms 
Lounge areas for relaxation and networking
Don't forget to think outside the box (or building). Have an outdoor space available to you? Ensure it's equipped with comfortable furniture and high-speed wireless internet, so people can enjoy the sun while taking care of their work.
Create space for every function.
When revitalizing an old office, consider all the ways that employees will use the space. What do they need to get done at the office? Are they focusing on collaborating with other on-site employees? Or will they spend their time meeting with clients? Whatever work people need to complete there, the office should support it. That means they'll need a wide variety of spaces available to them including meeting rooms, individual workspaces, break areas and more. 
It shouldn't stop at functionality alone – the furniture and technology within the space are equally important. With comfortable, flexible furniture, employees can alter the space to meet their needs and work style. KGO's partner, Louise Humphreys, believes that furniture plays a large role in employee success. "Furniture and the workspace affects performance, especially when the function of the space and how it works isn't thought through."
Multi-purpose design has been a focus for many of our projects. In our new office build out for Global Giving, multi-functionality was key across each space. Common areas included space where employees could rest in comfortable chairs as well as tables and chairs to support collaborative work. Employees also have the ability to customize their quiet spaces to their comfort through multi-height desks.
Check out our interview with Louise Humphreys, KGO partner and Principal Owner of Spatially Speaking to learn more about what to consider when furnishing your workspace.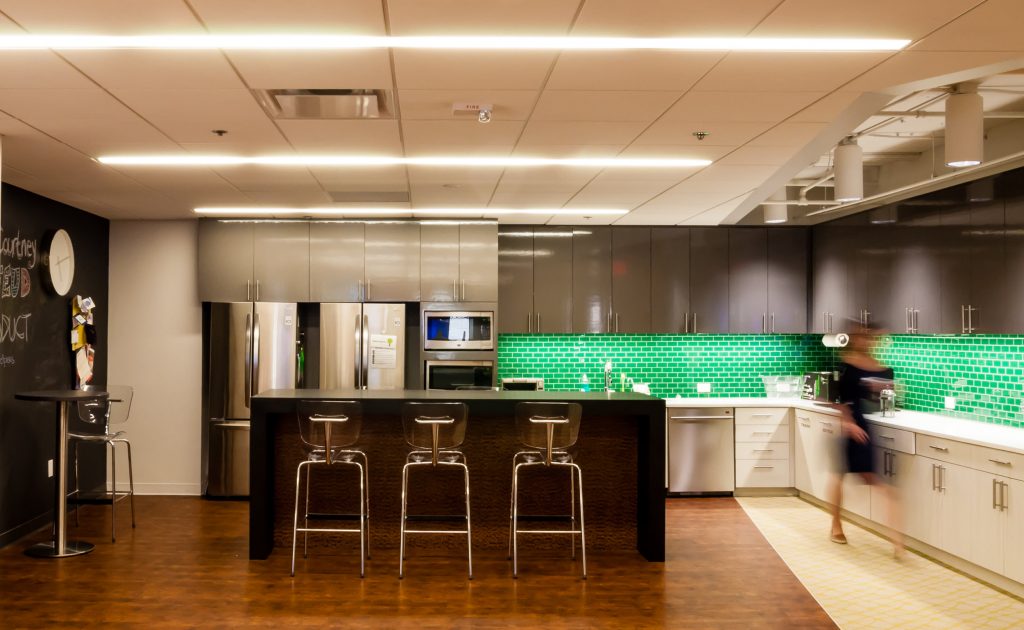 Upgrade to energy efficient features.
Much of the commercial building stock in the United States is decades old. Without updates, your HVAC system, roof and lighting fixtures can waste energy and even negatively impact the health and comfort of employees. Upgrading outdated features can improve air quality, reduce energy costs and ensure the space maintains a comfortable temperature for employees. These updates can also improve the overall longevity of your building.
To reduce energy waste, consider incorporating: 
An upgraded HVAC system

Efficient windows and doors 

Reclaimed materials — this is also an excellent way to preserve historic aspects of your building and maintain its charm!
Design for function, not trends.
To further ensure the longevity of your renovation project, avoid incorporating hyper-trendy design elements. This is not to say that your space should lack character. Rather it should be designed to support your needs and represent your brand for years to come. When selecting major design features and colors, consider what you want your space to do and say to employees, clients and other visitors. 
When designing a new office build-out for Jellyfish, we incorporated a lounge area alongside floor-to-ceiling windows, which overlook the Baltimore harbor. This design element is unique, stunning, and timeless. The view of the Baltimore city skyline is a feature that will never go out of style, and it provides an inspiring space for employees to collaborate or simply chat over coffee.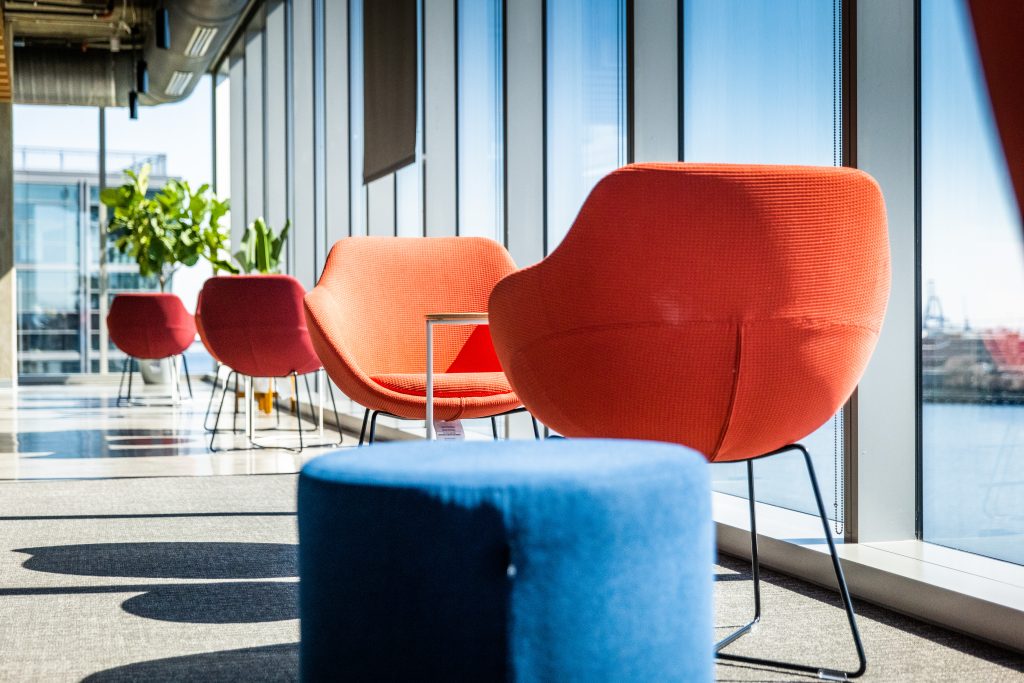 Bring the outside in through biophilic design.
In an SHRM survey, 83% of companies said wellness was a major focus during their efforts to reintroduce employees to the office. To meet new wellness goals, many companies have begun offering new resources like robust mental health benefits. One area many companies overlook when designing wellness initiatives is the office space itself. Bringing nature into the workspace through plant life, natural light and lush outdoor spaces has a positive impact on employee wellness. After all, few things could be more essential to an effective return-to-work plan than an office that people enjoy visiting. 
Some natural design elements you might consider include: 
Natural materials like wood, stone and even logs 

An abundance of natural light 

Unique placement of vegetation in living walls, hanging plants or potted plants
Transform a historic building into a timeless space with support from KGO.
Bringing an old building into the 21st century is a daunting task. Our experts can help identify what to modernize, what to salvage and what can be left in the past. Whether you're revamping an old office building for a contemporary brand or revitalizing a historic apartment building, we can help.