2023 will bring a fresh breath of air into workplaces that lean towards the employee's favor. From more flexible work hours, to working remotely, avoiding commuting traffic and the need to get dressed up every day, employees have been in the spotlight.This has also proved to be the case in recent months, as many employees are feeling empowered enough to leave the workforce. According to the Bureau of National Affairs, $11 Billion is lost annually to employee turnover.  This shift to employee-centric workplaces has led to a variety of added benefits in the employee's favor, especially as companies are looking to retain their workforce and provide incentives for them to stay. One of these has been an addition of an employee wellness program. Over the years, this has become a standard for many Fortune 500 companies such as Netflix, Tinder and Nike. KGO has recently developed our own Wellness Program, so while we are no experts, we strongly believe in the power of the employees and are excited to share our step towards a better workplace with you.  
Continue reading to learn more about KGO's Wellness Program, as well as the top programs within major companies and the benefits of implementing a wellness program in your company.  
Marketing Intern, Erica Wirth, uses the program for workout equipment and probiotics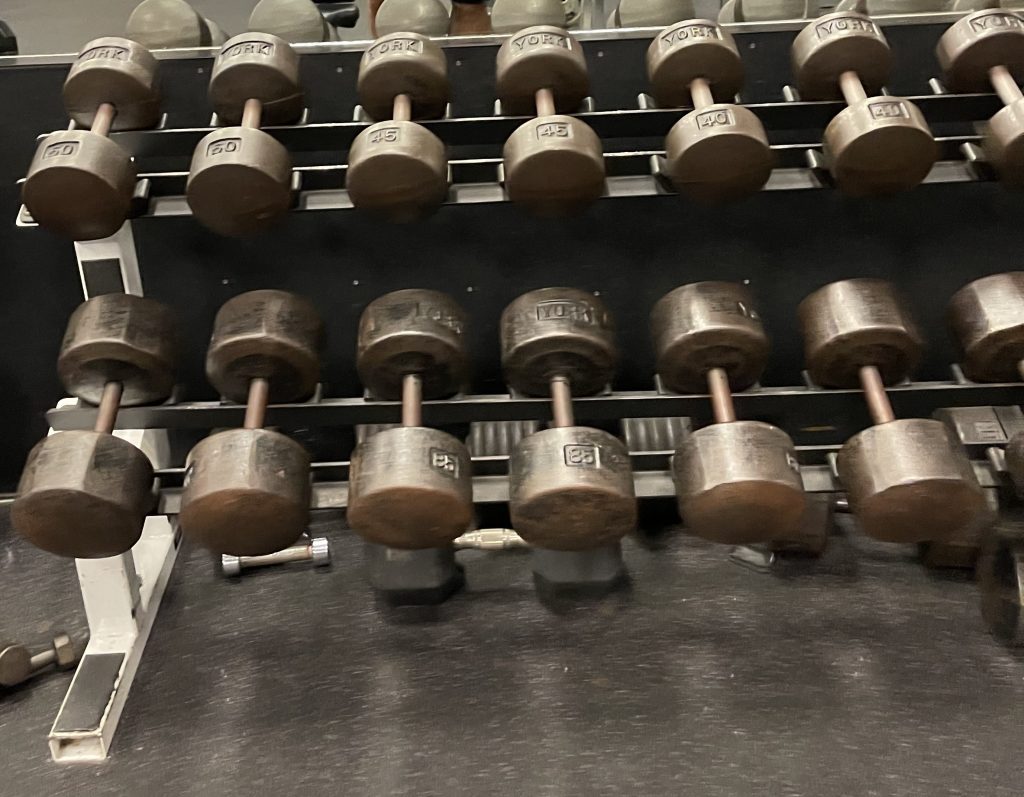 An employee wellness program is just what you would think. While they can vary from company to company, they typically include some incentive for all employees outside of work to help them with their overall well-being. They have made a large appearance in companies over the past several years, so people must be enjoying them.  
Many companies are choosing to take a unique approach to their wellness programs. KGO CEO Jen Olson agrees, saying that "The key to a strong (i.e., well used by every employee) wellness program is first understanding that wellness means different things to different people." While some have created their own fitness center within the office, others provide more paid time off. Here are some examples from the AIHR of Fortune 500 companies and how they have implemented their own wellness program: 
Tinder –

They use a software called Fitspot to facilitate weekly workouts with employees. Employees can get involved and stay healthy at the same time, all while not having to pay for a dime out of pocket. 

 

Nike –

As one of the top leaders in fitness and active wear, there's no surprise that Nike's Employee Wellness Program consists of their very own fitness center, the "Bo Jackson Center." Employees can use this facility for free, whenever they want. Are Nike outfits included as well? 

 

SpaceX –

They decided to switch up what it means by employee wellness, expanding out from the typical gym or provided workout class we have seen in the first two examples. SpaceX employees have access to an in-house massage therapist at all times. Gone are the days of neck cramps from sitting at your desk for too long. 

 

Netflix –

Known for being one of the best employee-focused workplace in the country, Netflix sets the standards of employee wellness at an all-time high. They offer unlimited time off for wellness and sick days, and they offer new parents up to a year of paid leave (both maternal and paternal). This is revolutionary within the U.S. and is a real perk for employees. 

 

Airbnb –

They have an entire Employee Experience Team on board that works to ensure the health and happiness of all employees. While this is a different approach to a tangible benefit, their program helps to ensure employee's all-around wellness. 
The opportunities are limitless when it comes to what an employee wellness program consists of. What matters is that your program works alongside your employees. It may help to start by asking your Team what matters to them when it comes to overall wellbeing.  
Take it from these companies above that no matter what the perks of your program are, your employees are going to love it!  
There's a reason why many companies have already adopted an employee wellness program. They have been a huge hit to not only employees themselves, but also to companies. Here are some reasons for their great success, according to the Corporate Finance Institute:  
Higher productivity

 

Higher morale

 

Improved recruitment and retention of employees

 

Reduced absenteeism 

 

Reduced health risks

 

Increased camaraderie among employees
The benefits of an employee wellness program can stem far deeper than the small list included above. Start by thinking how much a wellness program would make you personally feel appreciated in your job, while also providing a healthy outlet used to separate yourself from your work. Instead of a work-life balance, society is starting to make a shift to a work-life integration period. A part of this is implementing healthy coping techniques into your work life. An employee wellness program can help satisfy this need for separation (and integration!).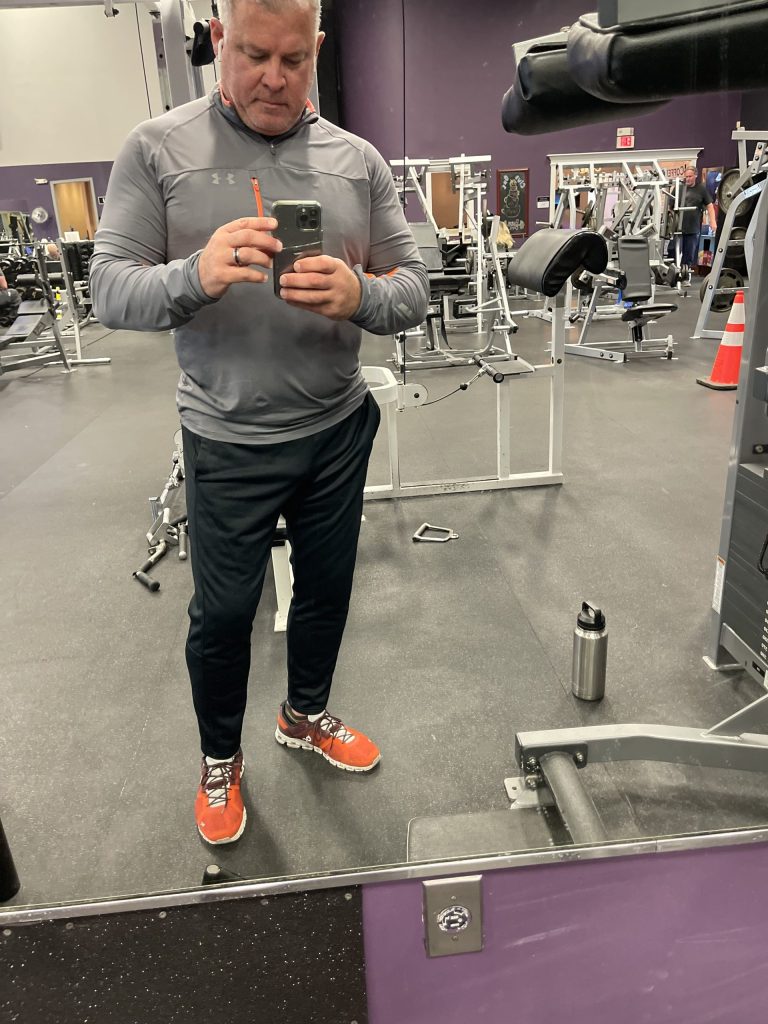 Michael Lawrence, Director of Client Services, goes to the gym everyday and holds his family accountable. 
KGO implemented its very own Wellness Program in February of 2022, and has seen remarkable success of the initiative within the past year. Here's a breakdown of what is included in the KGO Wellness Program: 
After 90 days of employment, every employee (part-time or full-time) will receive a certain stipend every month to use for their overall well-being.

 

Amounts do not roll over month-to-month, which encourages employees to actually spend the money allotted to them. 

 

There are over 14 different Wellness Categories that are covered under the Wellness Program

 

Physical Activity (gym memberships/online exercise subscriptions, athletic equipment/clothing)

 

Healthy Nutrition and Weight Management (subscriptions/memberships, books, vitamins, and supplements including herbal products)

 

Allergy testing

 

Cholesterol and hypertension treatment

 

Tobacco Cessation

 

Alcohol Management

 

Stress Management

 

Diabetes Management

 

Sleep Disorders

 

Social Connectedness

 

Personal Development

 

First Aid and CPR Training

 

Maternity Services

 

Other alternative wellness services (including but not limited to massage, chiropractic services, flotation therapy, etc.)

 
You'll notice that instead of selecting the same gym or one service to all, KGO has chosen to go with a "you choose" structure, which allows each individual to select the area they want to spend their money on. This can change month-to-month if necessary and is in no way tied to the individual.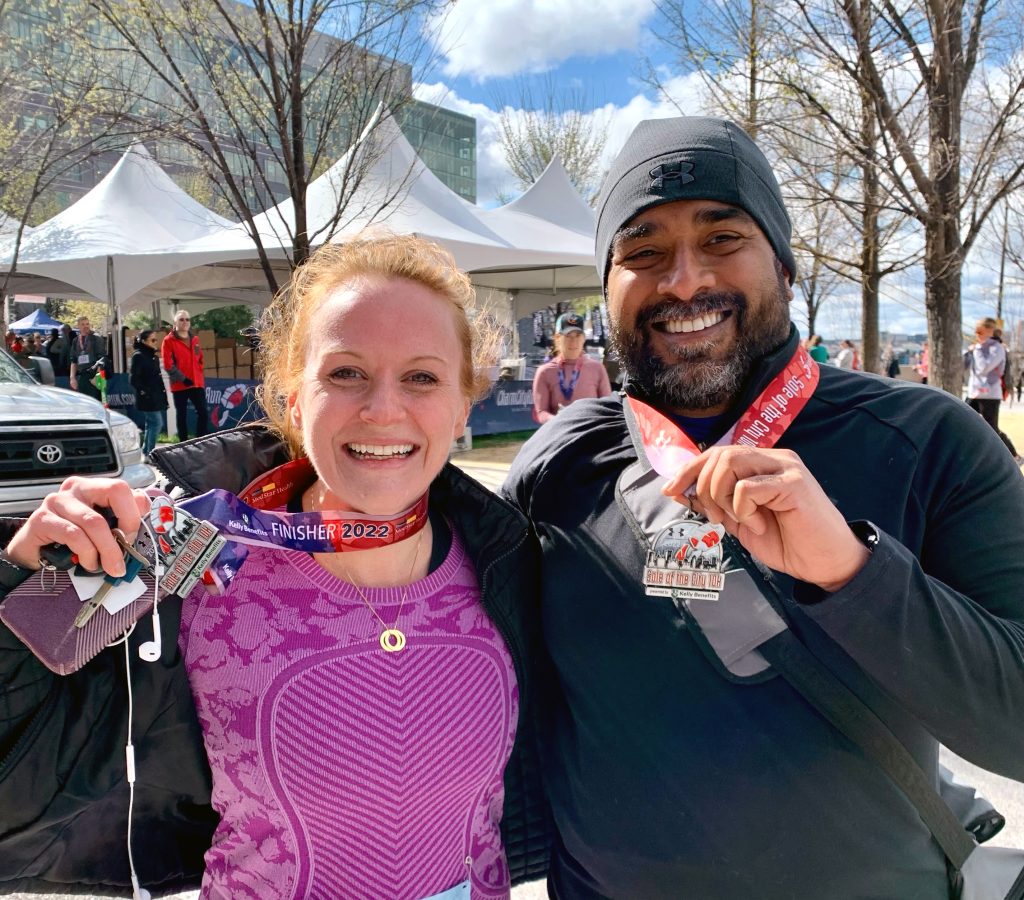 Emilie Mendoza (left) and Mathew Xavier (right) after finishing a 10K together
One reason why KGO chose this route was because its entire workforce works remotely. With no central office, a gym location would be too difficult. KGO also understands diversity and knows that everyone's wellness needs are different and require support in unique ways. At the end of the day, KGO encourages you to look at your own organization, the location of your employees, and what's important to them before selecting a Wellness Program.  
KGO's program was also designed with community in mind. Olson believes that it is up to company leaders to demonstrate their commitment to employee wellness. They are the role models and the ones that can prioritize and model healthy behaviors. She states that "It's about health, feeling good, and being our best version of ourselves. We have to support each other in our individual wellness pursuits regardless of what it looks like for someone." 
So far, KGO has seen a positive response to the program itself. According to Change Manager, Mary Kate Zabroske, "We can utilize this benefit for our own hobbies and passions because of its flexibility … this is the ultimate 'meeting employees where they are' wellness opportunity." She's not the only one. Erica Wirth, a Marketing Intern, has another positive response. "KGO's program makes me believe they genuinely want me to succeed on all aspects of my life. It also shows that they understand professional growth comes hand-in-hand to personal well-being. I can't show up to work every day if I can't show up for myself outside of work." Project Manager, Alexa Garbis, uses the wellness program to work out at the gym and de-stress while achieving her personal fitness goals. "It's peace of mind knowing that the people I work with are rewarding us for taking care of ourselves to make us the best people we can be."  
At the end of the day, KGO is a strong believer in investing in your team's professional AND personal well-being. With the influx of employee wellness programs, many companies are recognizing this change is for the better. Help create a better workplace for all in 2023 and implement a Wellness Program into your own company.  
Let's Build Your Employee's Dream Wellness Program
For help with facing internal change within your organization, contact us today!