As a nationally recognized women-owned business and the largest women-owned project management firm in the Mid-Atlantic region, our team at KGO values diversity throughout the workplace. To help spread these values to individuals and companies within our area, we decided to become a silver sponsor of the Women in Construction Conference (WIC). 
The annual conference was held in DC on October 22, which marked the 15th anniversary of the conference. With the motto of "By Women, For Women", the conference strives to provide education, professional development, and networking opportunities for women throughout the entire construction and build industry. This conference holds great importance to KGO and several of our team members, Amy DiPietro (Project Manager) and AmyJo Aikele (Change Manager), who were able to attend this year's event in person. This marked Amy's fourth year attending the Women in Construction Conferences, while it was AmyJo's first. 
As a new attendee, we wanted to interview AmyJo and share her experience, including information about what the conference was like, the key takeaways she received from the panelists, and why she would recommend the conference to others.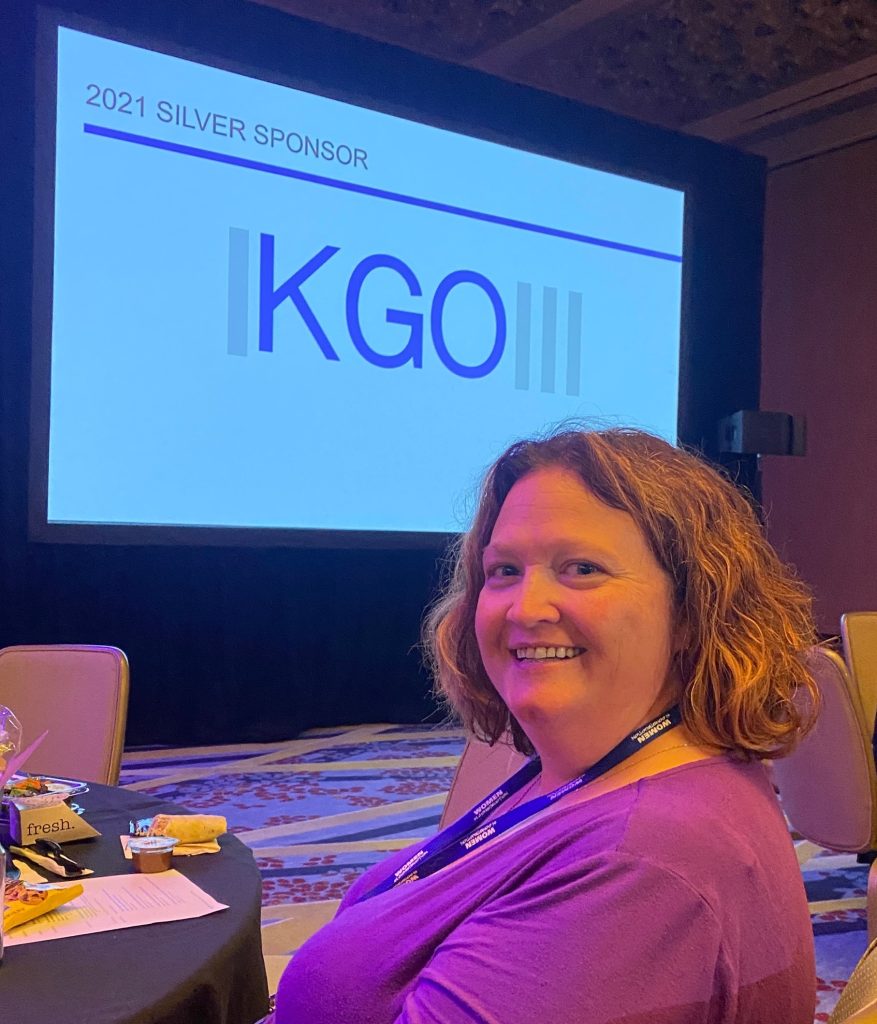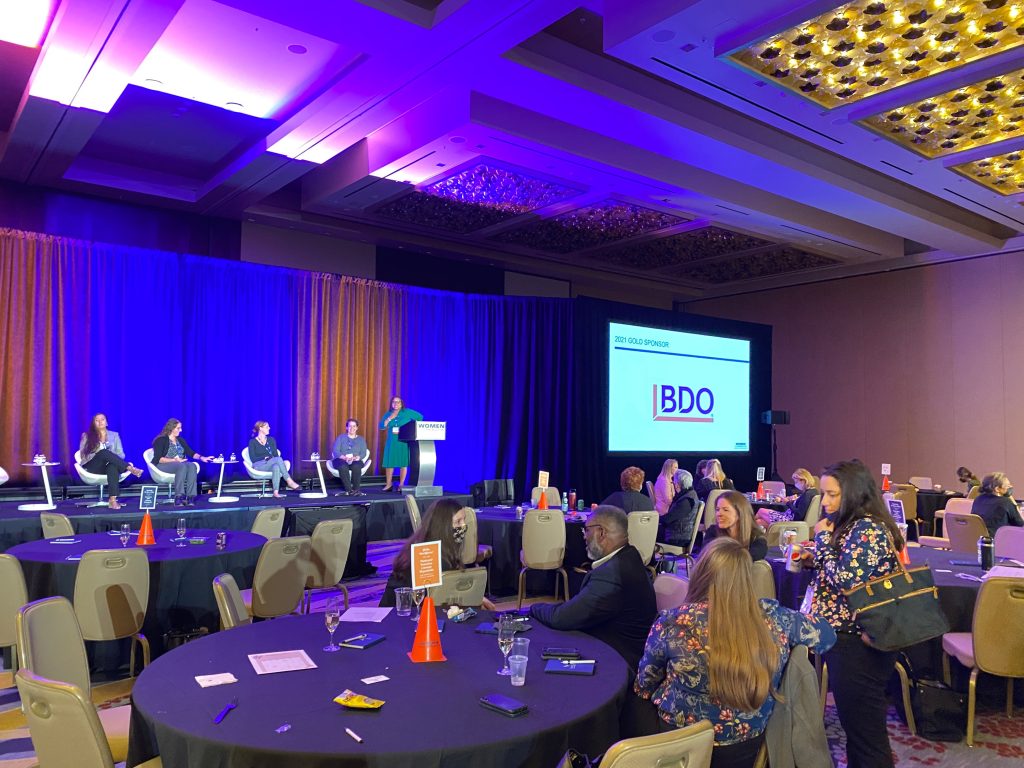 The Conference Experience
The conference was organized into panels of people and different discussions, which allowed for a wide range of topics to be brought up. Examples of the different topics discussed and what AmyJo thought of each one follows: 
1. Challenges and Opportunities for Women in the Field 
Throughout this panel, women shared their stories about situations they have faced throughout the industry. AmyJo could connect things that happened within her own career with what the panelists were speaking to, providing her with a sense of community. If there is one thing to remember – it is that you are not alone.  
2. Groupthink
Before the conference, AmyJo had never heard of groupthink. According to the Merriam-Webster Dictionary, groupthink is "a pattern of thought characterized by self-deception, forced manufacture of consent, and conformity to group values and ethics". WIC talked about the dangers of groupthink, and the effect that it can have on a company. If no one in a group spoke up about the possible negative outcomes of a given idea and instead went along with what the rest of the group wanted, businesses could make a wrong decision in the long term. Even though AmyJo had never heard of this term before, she immediately made a connection to it within the industry.   
3. Women Who Build – Trinity College Construction
This panel discussed the construction of Trinity College, which was completely done by women. According to AmyJo, "not only was the whole board on the college women, the architect on the job was a woman, the construction manager on the job was a woman, the engineer on the job was a woman, everybody was women from design to build – it was all women." This story empowered AmyJo, who explained that wherever you see a women succeed, you oftentimes see men as well. To see women undertake the entire construction process as a whole was emotional and inspiring for women to hear about. 
4. Burnout
AmyJo believes that everyone always talks about burnout and flexibility when it comes to your job and career, but it can still be hard to implement those conversations into daily life. What AmyJo found interesting is that one of the panelists recognized that she is not where she wants to be with implementing burnout-relief mechanisms and that she still has a long way to go. Hearing that even the most powerful women are struggling with burnout, made AmyJo feel more at ease within her own progress towards a better balance. The panelist's open and honest conversations proved to be an inspiration for the attendees. 
AmyJo's Comments
"These experiences that you have as a woman in the industry – you're not alone"

 

"You don't have to know everything; you just have to know who to go to"

 

"Your voice is important – don't feel like you have to hide that"

 

"We need to meet ourselves with where we are at with [burnout]"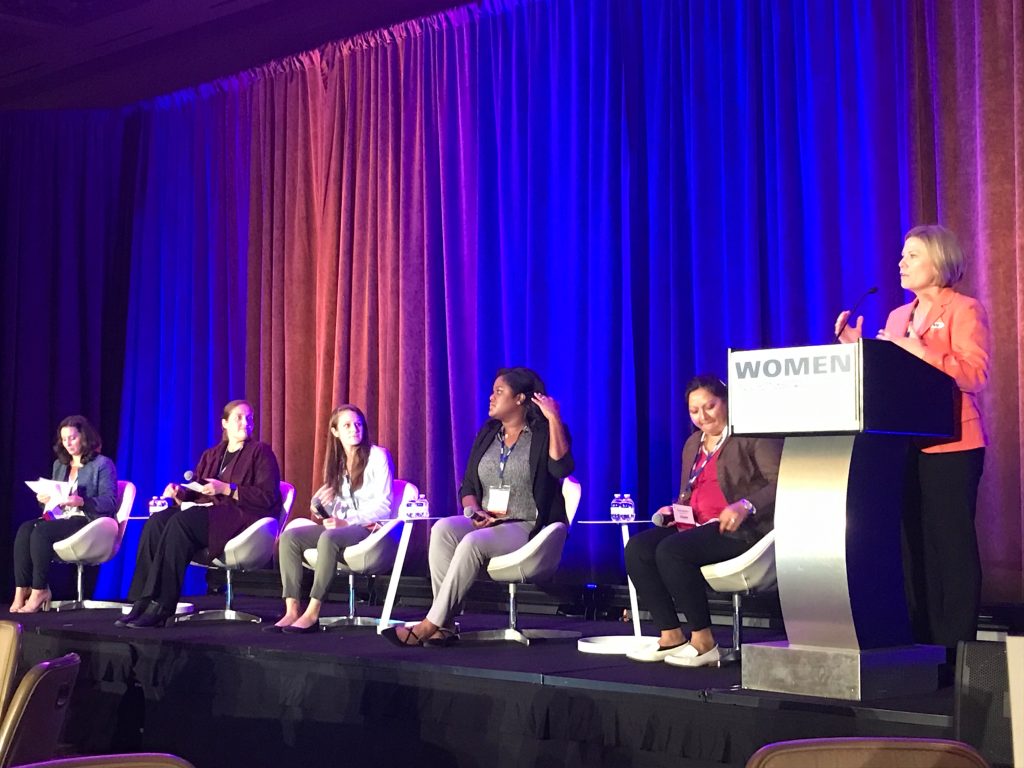 Why AmyJo Recommends this Conference Experience to Others
AmyJo believes that anyone can benefit from this conference, as long as they keep their mind open to learning. "You can easily go into it and not learn anything if you're closed off," AmyJo states. While there is a lot to soak up at the Women in Construction Conference, you only take what you are willing to accept.  By listening to the panelists and being receptive to their new ideas, anyone who comes to the conference will walk away with either a new set of knowledge or a new source of motivation – regardless of gender or career path. 
Another benefit of a conference like this, according to AmyJo, is the endless networking opportunities. While this specific conference is geared towards the construction industry, AmyJo was surprised at the diversity of people she connected with while attending. While AmyJo originally perceived construction as "hammer and nails" type of work, she was pleasantly surprised to see a number of construction attorneys in attendance. Many of the panelists' backgrounds were not originally in the Construction Industry. Because of this diversity, there is a great opportunity to build your network at this conference. AmyJo encourages everyone to "network with people not just for yourself, but for them. Someone can learn from you, and you learn from them." There are plenty of people attending these conferences who are willing to help you out in any way that they can, and there is so much that you can also bring to the table.  
The last recommendation that AmyJo wants to give is to "take time to break from your day-to-day life to open your mind and learn from others. Exercise your mind a bit and make sure that you're learning and growing". We all understand that it can be difficult to step out of the routine hustle and bustle within your job, however the benefits that an educational and inspirational conference like this one can give you will outweigh and hold a higher importance than the hours you would spend behind your desk.  
KGO wants to thank the Women in Construction Conference for allowing us to be a silver sponsor this year and for providing not only our employees, but the Mid-Atlantic Region as whole, with such 

an 

inspiring

 and educational 

experience. 

We are looking forward to next year's conference.