One key takeaway from the success of the new remote workplace is that culture is not where people gather. In the hybrid working model, companies have found ways to maintain their unique cultures across a variety of platforms. KGO's culture is deeply rooted in the values of knowledge, growth, and opportunity, which stem from the foundation of relationships and trust. Recently, KGO has integrated this perspective and solidified its commitment to these values using what is known as a Challenge Coin.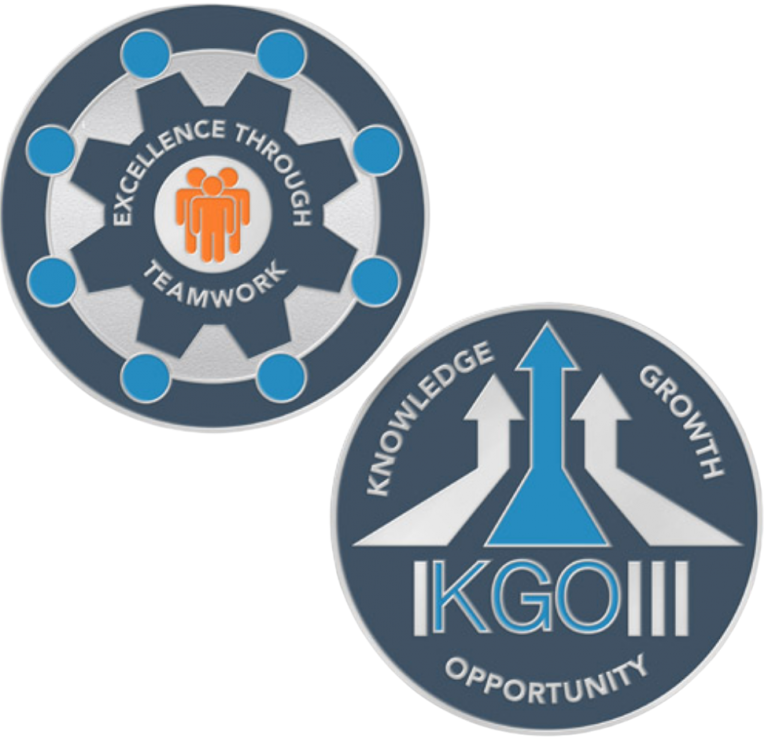 Before you get any thoughts, no – this coin is not related in any way to currency nor is it a coin that makes you do dares of some sort! It is instead a way to memorialize KGO's unique culture. As stated by CEO Jen Olson, "culture entails tradition, and ours is celebrating success, and we value how we get there – the teamwork aspect and recognizing each other's strengths. Through trust, we build strong relationships. The coin represents all of this." 
So where did the idea of a Challenge Coin originate? The Challenge Coin has been used as a tangible form of connection for many years by both the government and the military. Challenge Coins are given – and even traded and collected – as a way to express emotion and gratitude towards someone else for something they have helped you with or accomplished on their own. In addition to reflecting feelings, these coins are used as a form of identity, both inside and outside of the organization. In the military, many coins are associated with specific ranks, so the higher up you are in rank, the harder it is to acquire coins.
KGO's coin is a special mark for the company. Not only is the coin a conversation starter, but it symbolizes the connection between workgroups that have received the same coin. While it is important to recognize teamwork and cohesiveness, it is also important to recognize individual efforts outside of your immediate work group. The idea of a Challenge Coin tackles both benefits, adding to the already strong culture within the KGO family.

The future of the Challenge Coin and its meaning at KGO can continue to grow and expand. Currently, each coin given out comes with a small, personalized card. While the coin can represent a group effort, the card makes sure that each coin holds an individualized purpose as well.
KGO is confident that the coins will forever hold a special place in employees' hearts and will be a constant reminder of not only the hard work that they have put into their job, but the value and importance of recognition. Many companies stress the importance that customers must always be highly valued, however KGO also recognizes that in order to have high customer satisfaction, employees must have good morale and motivation. Something as small as a palm-sized coin can make a huge difference in not just KGO's culture, but company cultures across the nation.