In 2022, we added 9 new team members and started 16 new projects. As the year comes to a close, we're taking a look back at some of the most exciting projects we've had the pleasure of working on. Read on to see how our team has delivered expertise in project management, relocation management, and hybrid work strategy to our clients.
Installing electric vehicle charging stations across multiple states
An energy company client has embarked on a long-term plan to convert their fleet of trucks to electric power. In order to achieve this ambitious goal, they need to install EV charging stations to power their fleet. This undertaking spans 13 work sites in multiple states as part of a five-year plan to introduce clean energy into their fleet of work vehicles.
They enlisted our team to support in streamlining the design and implementation at each site. We also helped select a qualified EV charging station partner. Because this project is set to span multiple years and sites across multiple states, it was essential that we select a partner equipped to handle a project at this scale without setbacks.
Our ability to complete this work without disrupting our client's daily functions is critical to the success of this project. Through strong communication, installation has progressed without disrupting their crews and operations. As a result, the project is on track to meet their goal of electrifying their vehicle fleet by 2025, and helping to create a sustainable future.
See how our team has managed the risks involved with this complex project in our project manager Q&A.
Helping a Higher Ed Institution move buildings over Summer Break
It can be easy to underestimate the planning that goes into a successful move. When a DC-based Higher Education Institution needed to relocate to a new 7-story, mixed-use building over a semester break, it called on KGO for support. There was not an elevator for the historic building where the move was happening, so KGO found a specialized moving company and provided on-site support as the movers brought down all of the items and furniture using the stairs. Our team provided relocation support services including move communications, relocation scheduling, furniture management, and mover coordination. This project was completed 1 day ahead of schedule, and 75 faculty and staff started their semester in a brand new space. 
Developing a hybrid work program for a global team
Conducting a successful transition to hybrid work requires immense analysis and planning, especially when you're looking to downsize a real estate footprint spanning the globe. With fewer employees working in the office, our nonprofit client sought support to:
shrink their real estate footprint
use physical space more strategically
establish a standard operating procedure for their new work style
When our client began implementing new guidelines for remote work, they determined that most employees would work in-office part-time. To support a successful transition to hybrid work, we developed a Workplace Strategy Playbook to analyze how their team would use the physical space.
From this, we were able to provide a personalized list of Recommendations and Guidelines. Recommendations included technology, furniture and other resources to incorporate into the office as well guidance on how to orient the space.
In addition to offering support on the selection and design of their new workspaces, we also developed and implemented a Change Management Plan. This included guidance on
How to communicate the transition with employees
An employee training strategy
Guidance tailored to each regional office
As a result, employees will have the support they need to be successful whether they work in-office or remotely. Additionally, the transition can take place with minimal disruptions to their day-to-day workflow.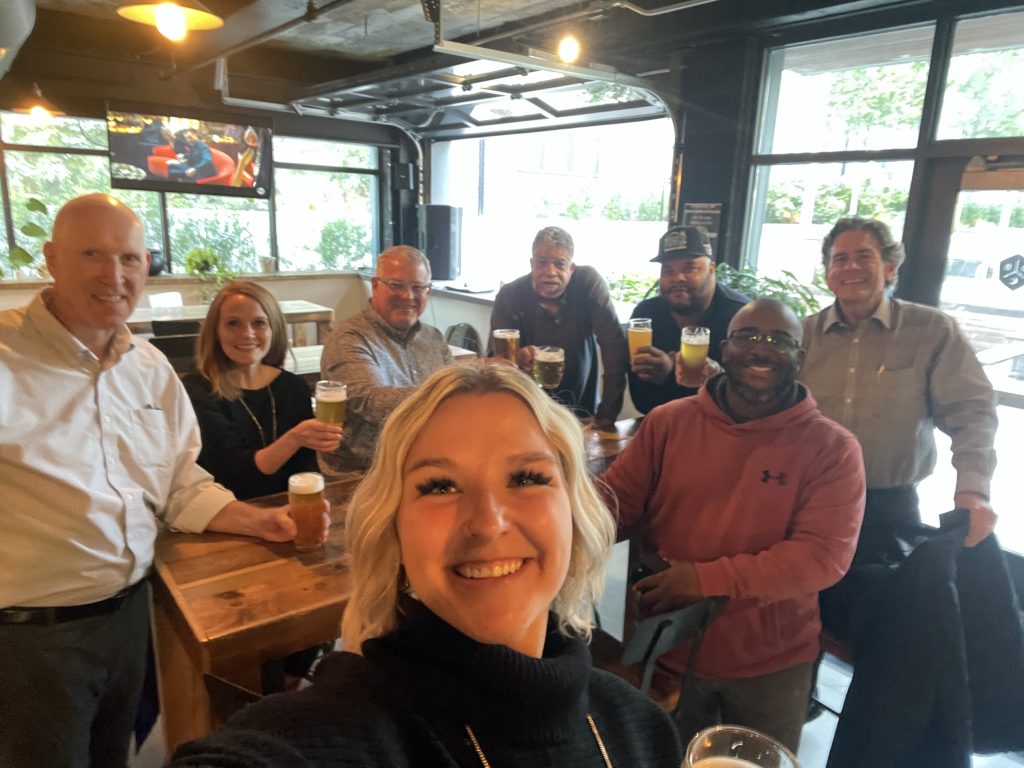 Cheers to a great year!
KGO your project in 2023
These projects showcase our strengths. With each client, we've prioritized open communication to ensure they enjoy a seamless transition. Whether we're working with a Fortune 500 client or a local nonprofit, we use data-driven approaches and a people-first attitude to deliver the best results.
Visit our case studies to see more KGO success stories.